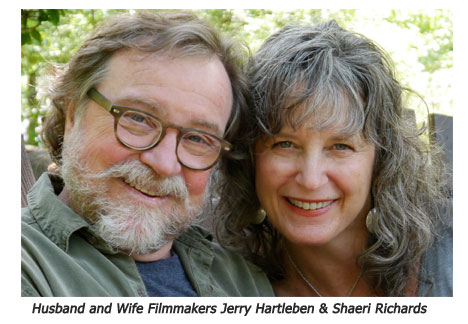 Jerry Hartleben
Jerry has more than 30 years experience as a professional Director of Photography of documentaries, television commercials, television series and feature motion pictures in Hollywood and around the world. He began his career in the film industry at the age of four as an actor at MGM. During his ten-year acting career, he worked with such renowned directors as Cecil B. DeMille, Arthur Penn and Alfred Hitchcock. It was during this time that he became interested in film and photography. While acting in "The Buccaneer" with Yul Brenner (also a master photographer), Yul took an interest in Jerry and along with the camera department at Paramount Studios, personally tutored him in the art of photography.  This was the beginning of Jerry's interest in a "behind the camera" career.
He went on to graduate from the U.S.C. School of Cinema and began his career as a Producer/Director/Cinematographer of television documentaries for the U.S. Navy and later, the NBC affiliate in Phoenix, Arizona.  All of this work was shot and edited on film.
As his career evolved, he moved to Hollywood and served as the Director/Cinematographer for numerous television commercials. In addition, he was the Director of Photography for more than 1000 national and international large budget commercials for such clients as Apple Computer, Ford Motor Company, Coca Cola, Budweiser, Levi's, American Express, Mercedes, General Motors and United Airlines; working with such talent as Ridley Scott, Leonardo DiCaprio and Jerry Seinfeld (American Express commercial series). In addition to his commercial work, Jerry was Director of Photography for television films, Movies of the Week, television series and feature films. Among them were the ABC series "thirtysomething" and the feature motion picture "Wilder Napalm", starring Debra Winger and Dennis Quaid.
Shaeri Richards
Shaeri often says, "If my life were a painting, I would have to describe it as mixed media." Her background is varied and her education non-traditional, yet over the years she has developed many talents and skills that come together to make her the person she is today. She is a creative soul who expresses herself in many ways, as a filmmaker, author, speaker, hypnotherapist, musician, actress, improv artist and the list goes on.
Shaeri developed an ear for story telling and getting quickly getting to the heart of a story during her 20 years as a radio and television journalist. Over the years she wrote, directed and produced a PBS documentary that aired nationally; wrote, edited and narrated several award winning radio documentaries; wrote, directed and edited an award winning short film; and authored an award-winning spiritual self help book called,"Dancing with your Dragon: The Art of Loving your Unlovable Self."  She continues to support people on their spiritual journeys with her work as a coach and certified hypnotherapist.
Music is another love of Shaeri's. She's an accomplished trap set drummer and spent 10 years playing drums for Northern Arizona's highly popular Sammy Davis Band, opening for such acts as, Paul Revere and the Raiders, Chubby Checker, Sha Na Na, and Mary Wilson and the Supremes. She's also a singer/songwriter and wrote, produced and narrated an award winning musical audio book for children.  Her musical skills and her strong sense of timing continue to serve her well in the editing room.
Shaeri also enjoys performing. Over the years she has acted in more than 30 plays, and several independent movies. These days she satisfies her acting urge through improvisational theatre. She's been performing regularly as an improv artist since 2004 and is currently assistant director of the popular  Zenprov Comedy Troupe in Sedona, AZ.  She also teaches improv on a regular basis and finds it both exhilarating and healing.
Most recently Shaeri served as the co-writer/producer/director of "Moving from Emptiness: The Life and Art of a Zen Dude," along with her husband Jerry Hartleben.